ABOUT OUR COOKIES
Hey, hi! In case you haven't heard, we make gourmet half pound cookies that will rock your world! We bake with high quality ingredients, and much love. All of our cookies weigh between 8 - 9.5 ounces, and are sure to make you do a little happy dance.
Collapsible content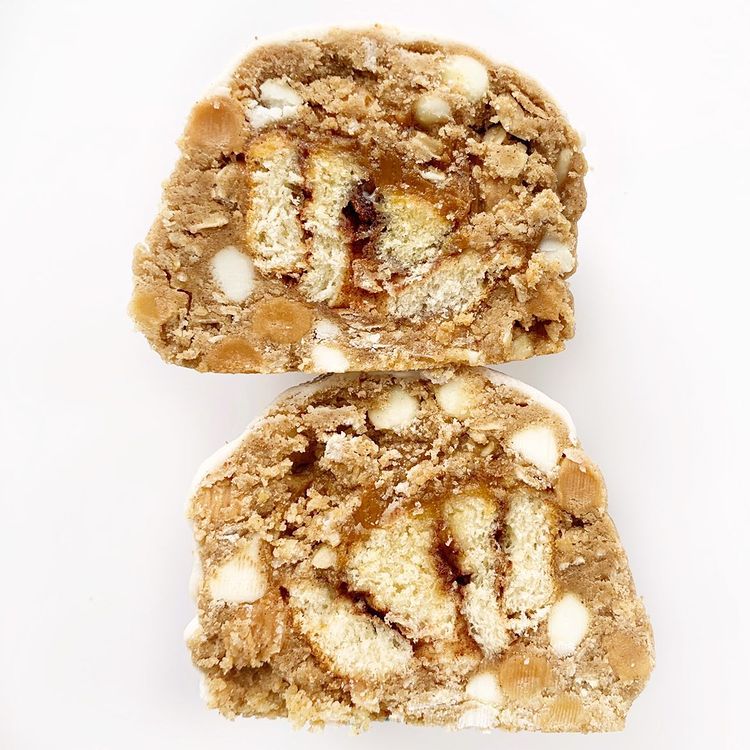 How big are your cookies?

All of our cookies are between 8-9.5 ounces.
How do I order?

You can shop right from our website on drop dates! Or if you're local, check our event calendar!
How do I store my cookies?

Cookies will last 3 days at room temp, or up to 7 days in the fridge. However, we recommend freezing cookies for ultimate freshness until you plan to enjoy them!
Do you cater events?

We offer smaller cookies (4-5.5 oz) we named "shorties", mini flatties and brownies for events. Click here for more info
Do you offer custom orders?

YES! And we love hearing your creative ideas. We just ask for 2 weeks notice. We require a minimum order of 6 cookies, and
price is based on design. Click here for more info
Do you ship?

Yes! We ship all throughout the US + Canada.
Do your cookies contain allergens?

Our cookies contain wheat, dairy, and eggs. Since we bake in a shared commercial kitchen, cross contamination of common food allergens can occur.
Do you offer local pick up?

We love our local fam and we can't wait to see you! If you placed an order from our online cookie drop, you will be responsible for reaching out to us to schedule a pick up time on our specified pick up day.

If we do not hear from you 24 hours after ordering to schedule, your order will be forfeited and no refund will be issued.

* all sales are final, we do not offer refunds*
We recommend enjoying our cookies at room temperature, however, if you like a warm and gooey "out of the oven" cookie, microwave for 10-30 seconds. Our cookies will last up to 7 days in the fridge, or up to 3 months in the freezer. For ultimate freshness, we recommend freezing right away until you plan to enjoy.
All cookies are produced in a shared commercial kitchen where cross contamination can happen. All cookies may come in contact with and/or contain common food allergens such as wheat, dairy, egg, soy, shellfish, seafood, peanuts, tree nuts.
SHOP THE COOKIES